By: John Shepler
Traffic on your company's Local Area Network (LAN) zips along at 1 Gbps or more. In most cases that's so fast it seems like the network is transparent. Yet, access a resource outside your building and things just seem to creep along. Wouldn't it be nice to just stretch that LAN across town or to one of your remote locations? Well, maybe you can.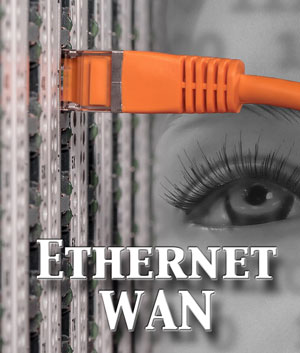 Yes, The WAN is Ethernet
Networks can be divided into two categories: The ones you own and the one's you lease. You typically install and administrate your company network, called the LAN. When you leave the premises, you connect to another network that operates as a utility. That's the WAN or Wide Area Network. Originally, this WAN was owned and operated by the telephone companies and implemented their proprietary standards. That includes your phone voice lines, ISDN dial-up, T1, DS3, and SONET fiber optic. Connecting to any of these standards requires specialized equipment to do the protocol conversion to and from the Ethernet that runs on the LAN.
These days, most outside lines connect directly to Ethernet without any protocol conversions. The suppliers can be telephone companies or competitive carriers who run their own fiber optic networks. Interoperability is made easy by Carrier Ethernet Standards established the MEF (Metro Ethernet Forum) industry consortium.
Ethernet WAN Services
There are three services typically offered by Ethernet service providers that you'll want to know about.
E-Line or Ethernet Virtual Private Line is a point to point service that connects two locations as if there was a really, really long Ethernet cable in-between.
E-LAN or Ethernet Virtual Private LAN is for multiple locations that want to communicate as if they are on a private bridged Ethernet network.
E-Tree or Ethernet Virtual Private Tree is also a multipoint service, but used more for broadcasting, streaming or content distribution. It is a one-to-many service with a single root and multiple leaves.
Getting Ethernet WAN Service
Within a metropolitan area, the service is called Ethernet MAN or Metropolitan Area Network. Over longer distances that leave the area, Ethernet WAN or Wide Area Network is the term used.
You'll contract with a service provider or carrier that has points of presence in the locations you want to connect. You may have several to choose from.
The equipment installed at your location consists of terminal equipment with an Ethernet port that supports the network speed you desire. Unlike older systems that require equipment changes for every change in service level, you can order Ethernet service at many different speeds up to the limit of the installed port. This has the advantage of letting you pay for the service level you need now and then upgrade easily as you need more capacity. Often that's as easy as making a change via your online service portal or with a simple phone call.
Ethernet to the Internet
The Internet is the ultimate Wide Area Network, connecting just about everybody, everywhere. You can order an Ethernet Dedicated Internet Access to connect your company to the Internet at whatever bandwidth you desire. The advantage of a dedicated connection is that the full bandwidth of the line is at your disposal and not affected by the carrier's other customers. These lines are also typically symmetrical, meaning that upload and download speeds are identical.
Why not just use the Internet to connect your far flung locations as well as connecting to customers? Many companies do. it's likely your lowest cost option. What you give up is the ability to establish Class of Service so that sensitive applications like VoIP phone calls and video conferences have priority over less critical applications such as file transfers and backups. Internet performance is also somewhat unpredictable because of unexpected congestion, indeterminate packet routing, jitter, latency and packet loss.
For companies with multiple locations, a hybrid arrangement may work best. Use dedicated Ethernet services to interconnect business locations and the Internet to communicate with supplier and customers.
Does Ethernet WAN sound right for your business? Get a
suite of competitive quotes for Ethernet WAN or MAN services
now with a single inquiry.