By: John Shepler
Are you considering new or additional bandwidth for your business office, retail store, or other commercial location? Professional grade options include high performance T1 lines, T3 (DS3) lines, and Ethernet options over copper and fiber optic cables.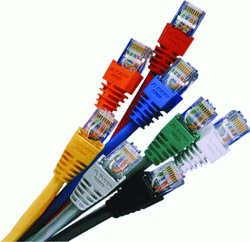 T1 Lines
T1 Lines have been the mainstay of many, many businesses for decades. They still are, although for more special situations. The big advantage of T1 lines is that they are provisioned over standard twisted pair copper telephone wiring. If you can get landline phone service installed, it's likely you can also get T1 service. That includes rural areas where there isn't much else to pick from.
T1 lines are highly reliable, get fast service if something goes wrong, and are dedicated to your use only. The bandwidth is symmetrical. That is, the upload and download speeds are identical. That's important if you exchange large data files or back them up to the cloud.
T1 lines can be configured for dedicated Internet access or point to point connections. They support ISDN PRI telephone trunks for multi-line phone and PBX systems. Their one limitation is the bandwidth, which is fixed at 1.5 Mbps. That's rather slow in broadband terms, but perfectly useful for small business point of sale terminals, email and casual web browsing. Additional T1 lines can be bonded to increase the bandwidth to 3, 4.5, 6 or even 10 Mbps.
Ethernet over Copper Lines
Ethernet over Copper (EoC) is a modern technical upgrade to legacy T1. It uses the same copper telephone lines, but can support higher speeds. Bandwidths of 10 or 20 Mbps are common within metro areas. Some support is also available for rural businesses, but not as ubiquitous as T1 service. Additionally, EoC is generally less expensive per Mbps than traditional T1 lines. You can often get twice or more bandwidth for the same monthly lease cost.
T3 Lines
T3 lines are in the same technology family as T1 lines. The bandwidth is much higher, 45 Mbps vs 1.5 Mbps. T3 refers to the actual lines, which are coaxial, waveguide or microwave relay. These days T3 is delivered as a service on SONET fiber optic lines and referred to as DS3. Like T1, T3 or DS3 service is highly reliable, dedicated and symmetrical.
Ethernet over Fiber Lines
Ethernet over Fiber (EoF) is the modern technical upgrade to SONET fiber optic service. As such, EoF replaces T3 and DS3 with the same bandwidth at a better price. Unlike T3 and DS3, Ethernet over Fiber offers a wide range of bandwidth choices instead of the fixed 45 Mbps service. You can typically get EoF service from 10 Mbps on the low end up to 10 Gbps or even 100 Gbps. You also have the option of changing your mind at any time to upgrade or downgrade your service. Usually, no hardware changes are required. You are billed for the bandwidth level you order rather than a fixed 45 Mbps.
Until recently, fiber optic service was limited to major metropolitan areas and rather expensive. The entrance of competitive service providers and the high demand to supply cell towers to support 4G and 5G broadband has vastly increased the amount of fiber optic services available. Most offices, business parks and retail locations now have the option for competitive fiber bandwidth pricing. Some lines are even available to rural locations.
You have a wide range of possibilities for your business bandwidth that include T1, T3 (DS3) and Ethernet over Copper and Fiber.
Check pricing and availability now
.