By John Shepler
Gigabit Internet is something of a gold standard for high speed business connections. Sometimes, though, even 1 Gbps doesn't get the job done. At that point you need to consider a move up… to 10 Gigabit Internet.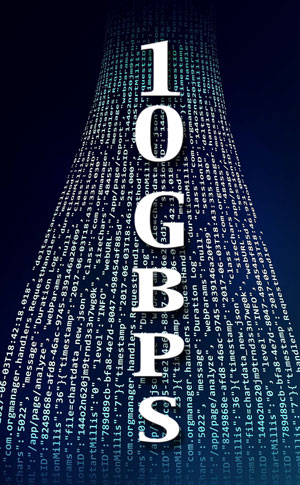 Who Needs 10 Gbps Bandwidth?
Most small businesses and probably all residential Internet users have no real need for this performance. The bragging rights are far offset by significant monthly lease fees. This is serious bandwidth for demanding applications that make having it more than worth the cost.
Not long ago the only place you'd find 10 Gbps pipes were in the backbones of carrier networks, including the Internet itself. Time marches on and what was adequate a decade ago is marginal performance today. Those 10 Gbps lines have gone from rare and hard to get to fairly common and readily available to business.
Cloud services and colocation centers certainly need access to gigabit, 10 gigabit and even higher connection speeds. Large corporations with thousands of employees, all connected, can also justify this speed. High tech firms and those using high tech tools may also require higher speeds. Content providers? Absolutely. Hospital and medical centers with large imaging requirements certainly can't be waiting around for file transfers.
What's Involved In Acquiring 10 Gigabit Service?
Speeds this high are almost always going to be delivered on fiber optic cable. The interesting thing about fiber is that once you have it installed it is as easy to get high speeds as it is to get much more modest service. That's because the fiber itself is capable of tremendous throughput. The limiting factors are the number of strands in the fiber bundle and the termination equipment on both ends.
The first standard for high speed fiber transmission was developed by the telephone companies and called SONET for Synchronous Optical NETwork. You may have heard of OC-192, which is the 10 Gbps SONET Optical Carrier level. Nowadays, most competitive networks and even the telcos are moving to Carrier Ethernet. Ethernet is directly compatible with nearly all local area networks. It is also easily scalable from typically 10 Mbps to 10 Gbps and even higher speeds. What's even more important for most business users is that Carrier Ethernet, also called Ethernet over Fiber, is generally far more available and far less costly than the older SONET technology.
Many competitive regional, national and international carriers now offer 10 Gig Ethernet access as well as point to point private lines. That means you may have several competitive offers to consider.
Why 10 Gbps Dedicated Internet Access?
Think of the Internet as the proverbial electronic superhighway with a backbone of major interstate and international roadways and millions of on-ramps. Unless you are part of the Internet itself, you will be connecting through one of these on-ramps. They vary greatly in performance.
The best performance you can expect on the Internet is to connect to the network backbone through a high tier provider using a dedicated connection. Dedicated means that you and you alone have use of the bandwidth you have leased. That sounds like the way it should be, but most Internet connections designed for consumers and smaller businesses are shared, not dedicated. By multiplexing many customers on the same line, cable, satellite and cellular wireless companies can offer low cost reasonable speed connections to their customers.
The other characteristic to look for is symmetric bandwidth. That means 10 Gbps in both the upstream and downstream connections. Those low cost options are usually asymmetrical, with download speed high and upload speed low.
Bandwidth to Grow With Your Needs
Since Carrier Ethernet is so scalable, you can often order the bandwidth you need today with the option of upgrading incrementally as your needs grow. With a 10 Gbps port, you can order 1 Gbps, 5 Gbps or some other speed and pay for the performance you are actually using. As long as you have enough port speed, you can often upgrade with just a phone call to your supplier or even through your online account.
Are you cramped for bandwidth but concerned that what you really need is not available or too expensive? You're likely in for a pleasant surprise, so go ahead and request
competitive quotes from Dedicated Internet Access providers
serving your business address.